Just 5 Steps to The Closet of Your Dreams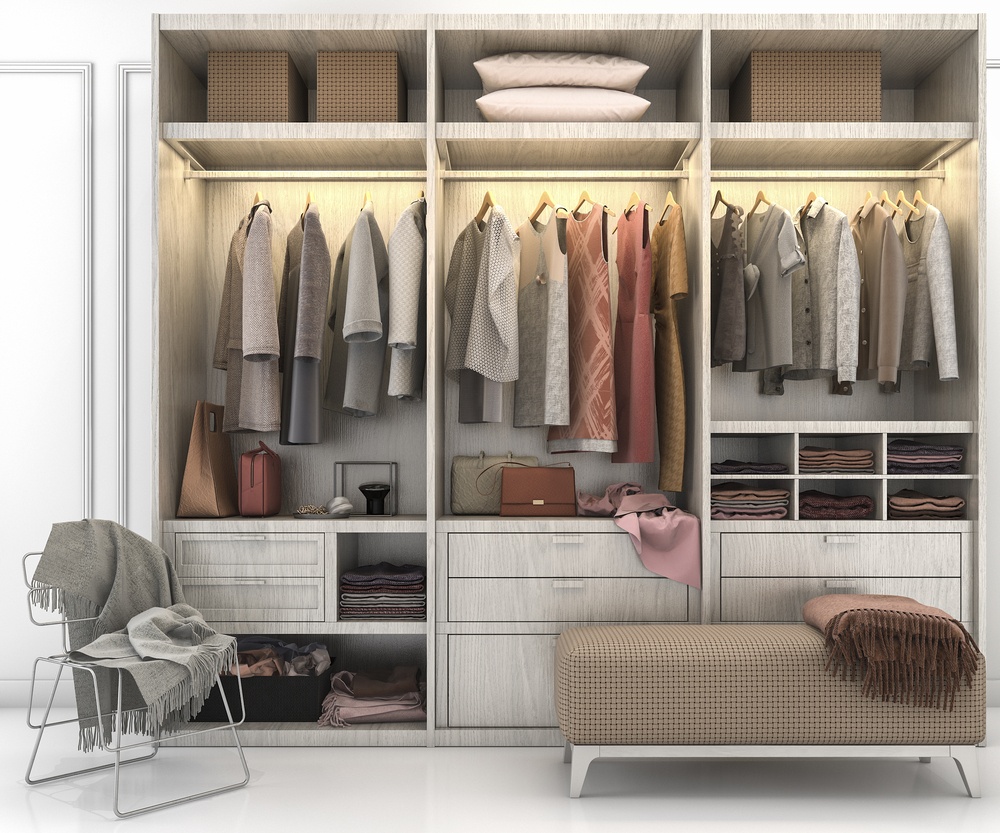 After 20 plus years of working with my Rodeo Drive clients, I've seen a lot of incredible closets. One thing they all have in common is that each is its owner's personal retreat. After all, it's a treasure chest, isn't it? It holds all the wonderful things you valued enough to call your own.
Given the right makeover, your closet can also become your luxurious, private space that is both stylish and functional. Whether you have a walk in closet with ample space or a modest wall closet, use these tips to create your new favorite place to shop.

Be Your Own Display Person
Before you begin, visualize the finished project. Every boutique has a display person who specializes in artistic product placement, thus increasing visibility and creating the mood of the space. Think of your closet as your own boutique.
Take a peek at my Pinterest board Closet Love for some ideas you might choose to incorporate. Try to maintain the mindset that you're designing a miniature shop as you continue through this list.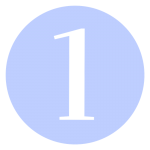 Step One:  Edit Your Closet's Occupants
This streamlining project should be done before you style your closet. Editing out unworn items and things that can live somewhere else in your home will tell you how much room you really need for each category of your wardrobe.


Note: Clicking on the product links below takes you right to them. When making a purchase through these links, a commission is potentially earned by WWTNT at no extra fee to you. But don't worry, I only feature products that I truly value for my readers.
Store Off Season Off Site
Make room in your closet by storing off season items elsewhere. At the end of each season, I make sure truly seasonal clothing and accessories (those that cannot be worn year around) are clean and in good repair. Then, I put them into hibernation until it's their moment again.
Use garment bags and storage boxes with acid free tissue paper to keep them fresh and dust free. I find guest room closets, the back of a coat closet, or a rolling rack set up elsewhere make great hiding spots. 
A bonus to this method is that when it's time to take seasonal clothing out again, it's just as much fun as taking out holiday decorations you haven't seen all year! You can also do this with rarely used evening wear, such as gowns.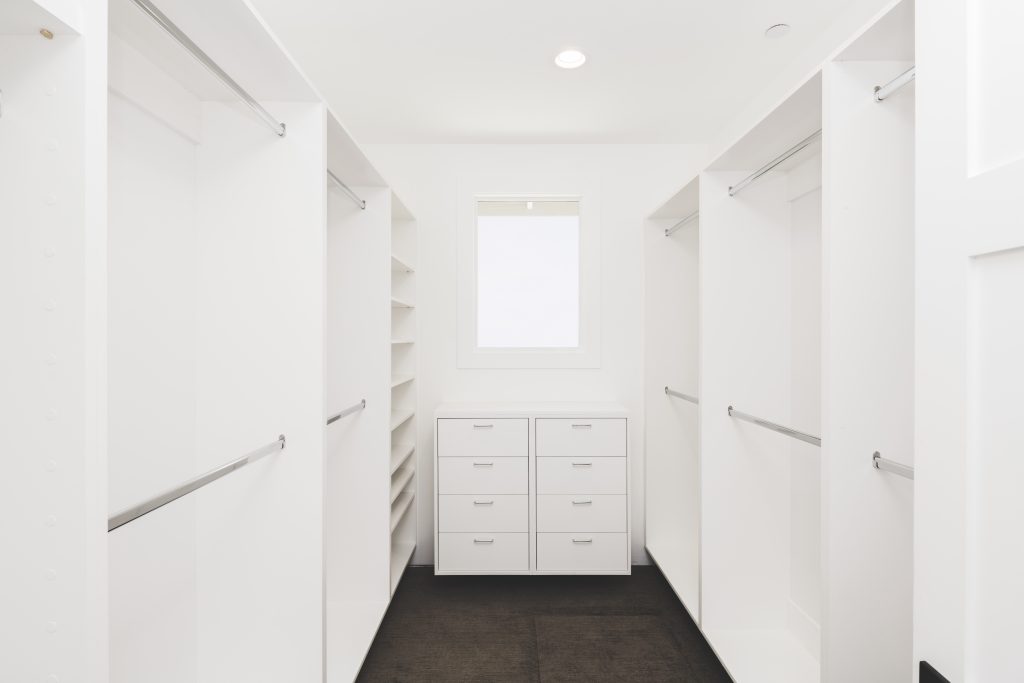 Step Two:  Start With a Clean Perspective
Take everything that will remain in your closet out and divide it into categories (shirts, sweaters, shoes, etc.). A rolling rack comes in really handy for this, as does a made bed. Dust shelves, wipe down drawers, and vacuum or sweep the floor.

Step Three:  Plan Your Space
Now that you know the amount of space needed for each category of clothing, you can plan your space.
It helps to have separate hanging areas for short and long garments.  Keep in mind that short items, such as shirts and skirts, can be stacked on top of one another by using a hanging rod. Plan to hang blouses, button downs, jackets, leather, skirts, pants, dresses, scarves, and belts. Hang suits as separate jackets, pants, and skirts. You're more likely to utilize them as separates this way.
Dresser drawers are best for cashmere, knitwear, tees, activewear, swimwear, loungewear, lingerie, and hosiery.
Save shelves for jeans, thick sweaters, handbags, and possibly, shoes. If you have more hanging room than you need, and want more drawer or shelf space, consider putting a tall, narrow shelving unit or dresser inside the closet. Or if you have shelves, but not enough drawers, use bins or dividers to neatly store tees, swimwear, hosiery, and more.
Lastly, be sure to leave yourself a small working space. The top of a dresser or shelving unit makes a great place to fold clothes or swap purses.  You can even dedicate a spot in a drawer for items that don't make the swap.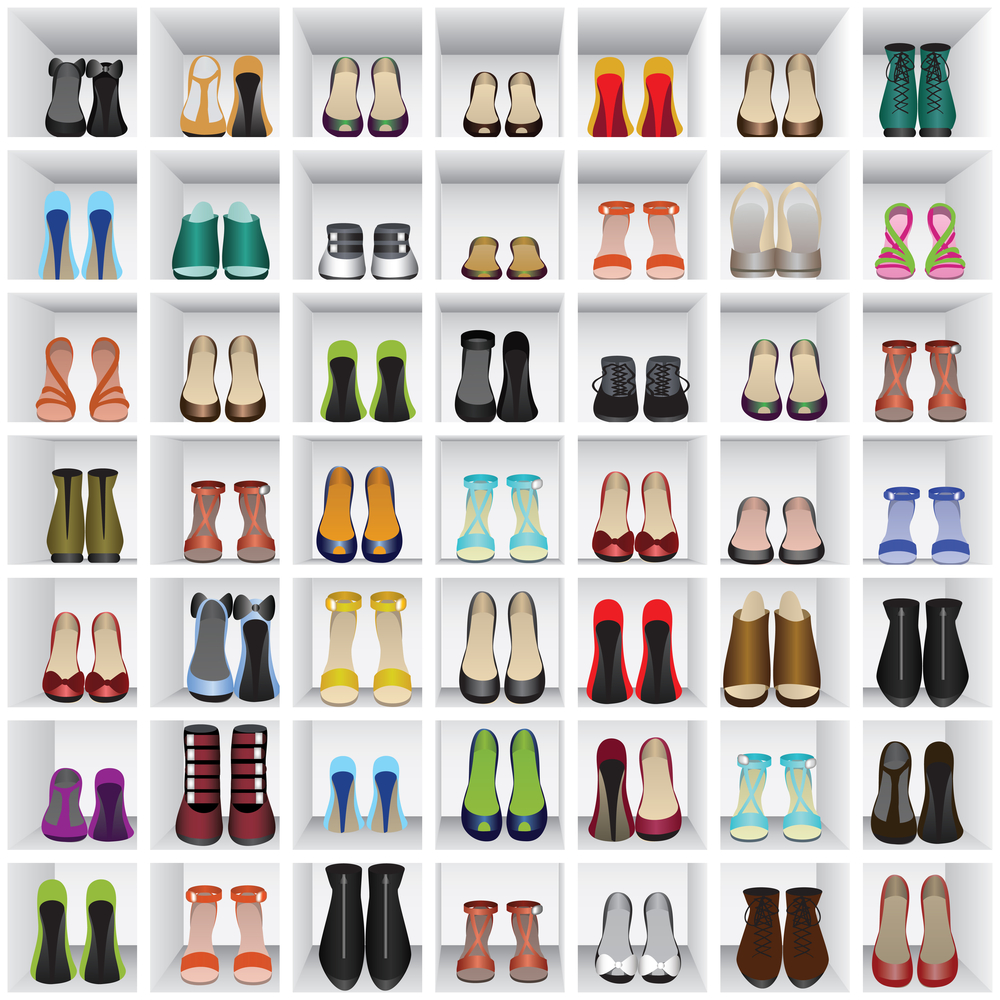 Shoe Shelf or Not to Shoe Shelf
If you're lucky enough to have an incredible collection of Manolos and Louboutins, shoe shelves can be glamorously decorative. Pinterest and magazines showcase closets filled with shelves of sparkling, new shoes. But, like many of us, if you're hard on your shoes or they aren't all display worthy, shoe shelves can look a bit sloppy and dusty.
In this case, some shoes are better stored in boxes and labeled with their photo. You can use the boxes they came in, or stackable bins to create a uniform look. Alternatively, a tension rod, placed at the back of the floor or shelf in your closet, acts as a bar on which to rest shoes. This tilts them forward, making them easier to see.

Essential Tools
There are a number of items available to help transform your space:
Structural Tools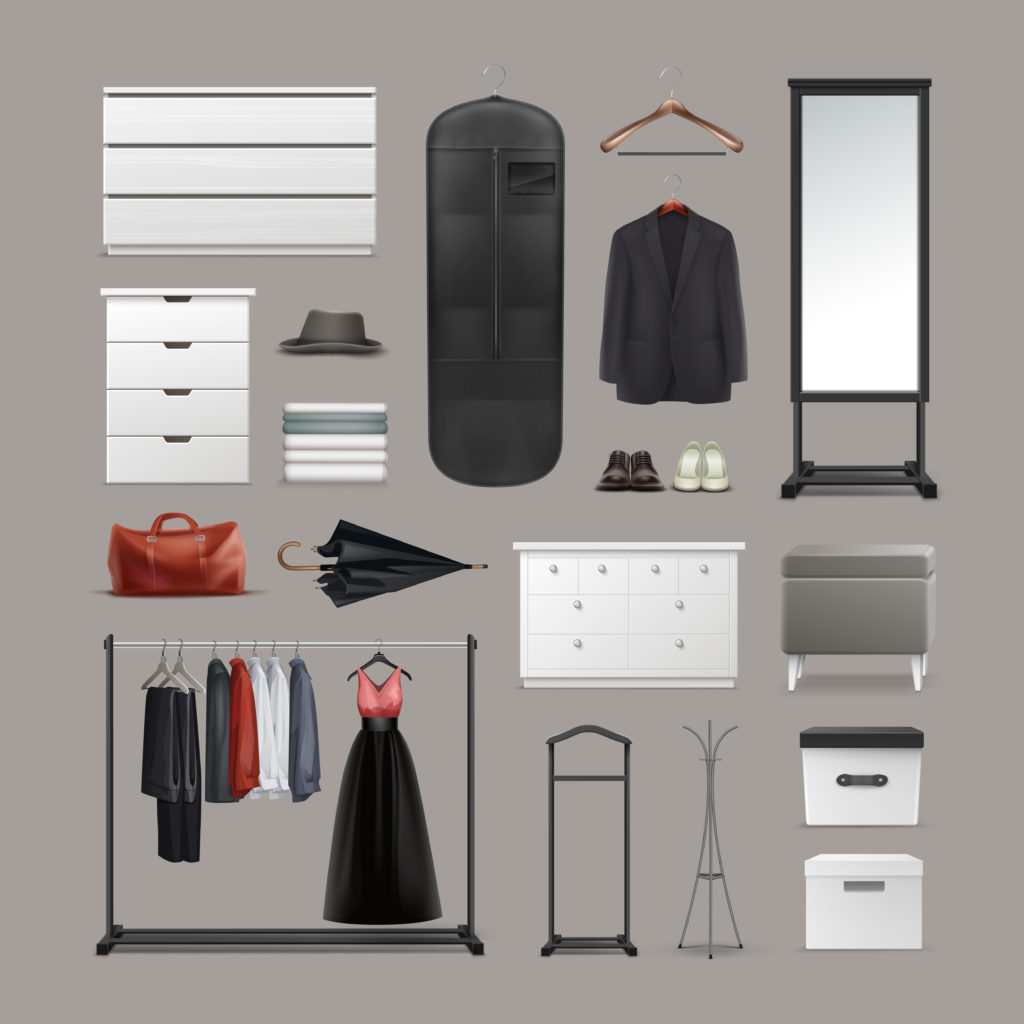 Storage Tools
Tools To Consider

Step Four:  Assemble Your Closet
Hanging Clothes: 
Hang blouses, button downs, jackets, leather, suits (which can be hung as separates), skirts, pants, dresses, scarves, and belts. Keep categories together and arrange them from light to dark colors. It not only looks good, but it helps in finding what you need faster as well. Make sure clothing is all facing in the same direction.
Because they can snag, be careful to keep embellished or sequined pieces separated from other clothing, by using breathable garment bags or acid free tissue over them.  Finally, do not store clothing in dry cleaning bags! They can discolor fabric if left on too long.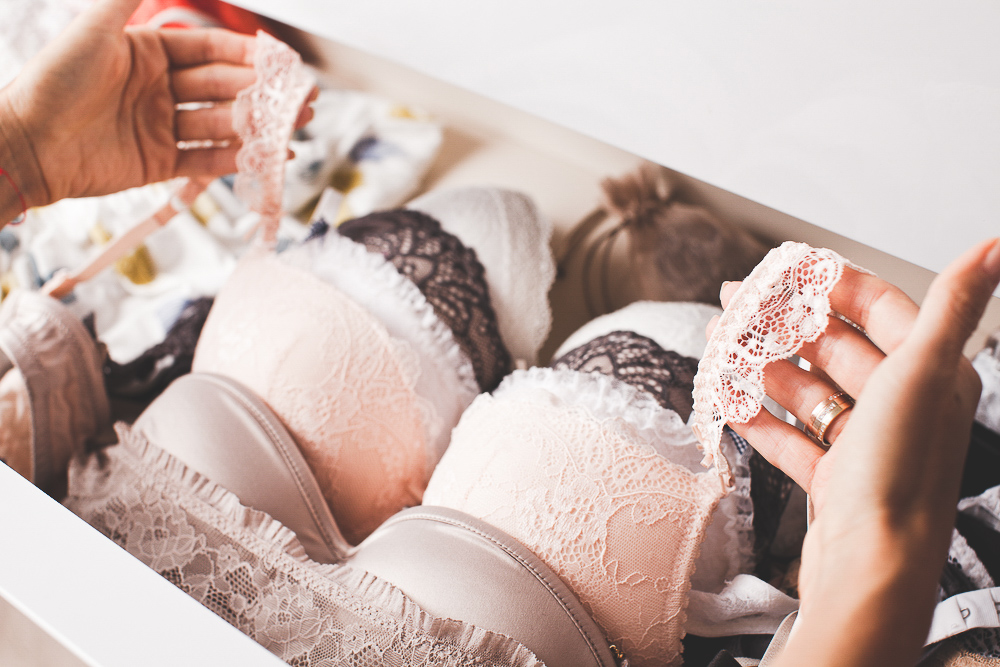 Folded Clothing:  
Use drawers and/or shelves for cashmere, knitwear, sweaters, tees, jeans, activewear, swimwear, loungewear, lingerie, and hosiery.  Keep categories together and folded neatly. You can use a folding board, bins, as well as dividers to maintain uniform stacks.
Arrange them from light to dark colors. Don't forget to separate embellished items with tissue. As for lingerie, store bras open and nesting within one another to maintain cup shape. Panties look pretty folded into drawer organizers.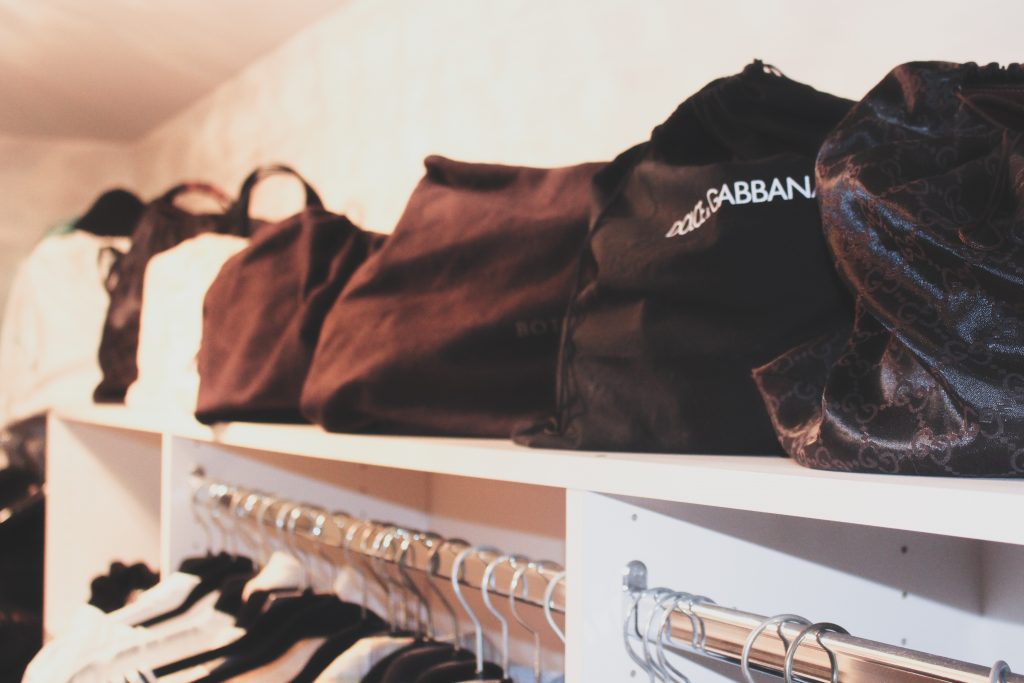 Handbags: 
Use inserts or acid free tissue to maintain their shape. Store them either in their dust bags and labeled with their photo or left out on display. Just be sure to dust them when necessary. Arrange your handbags by style and height. Shelf dividers can also be used to prop up clutches. If you have limited shelf space in your closet, try using a separate small bookcase or shelf elsewhere in the room.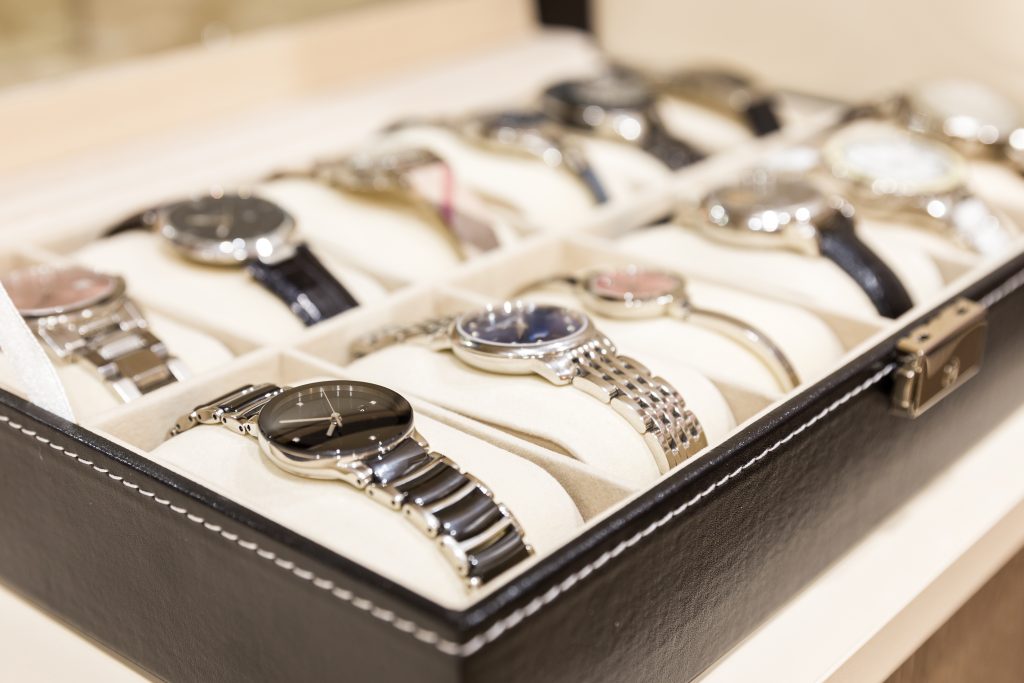 Jewelry: 
Organize your jewelry by category (bracelets, earrings, watches, etc.). Then, store your jewelry in stackable trays, a cabinet, or a drawer; just make sure it is easily viewable.  I find with jewelry especially, out of sight is out of mind.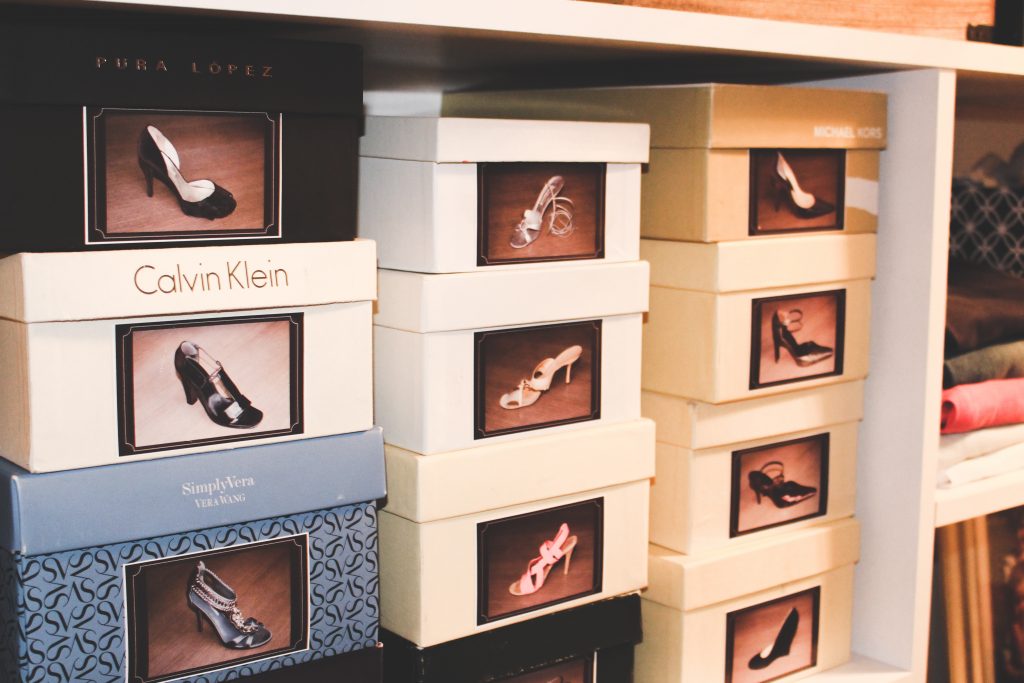 Shoes:  
Whether you choose to use shelves, boxes with photos, etc., arrange your footwear by category (sandals, sneakers, pumps, boots, etc.) and subcategory (high heel, low heel, color). 
If you are hanging boots, but be wary of clips leaving marks on suede or fine leather. Fold a small square of heavy fabric over the edge of the boot and then position the clip over it as an added layer of protection.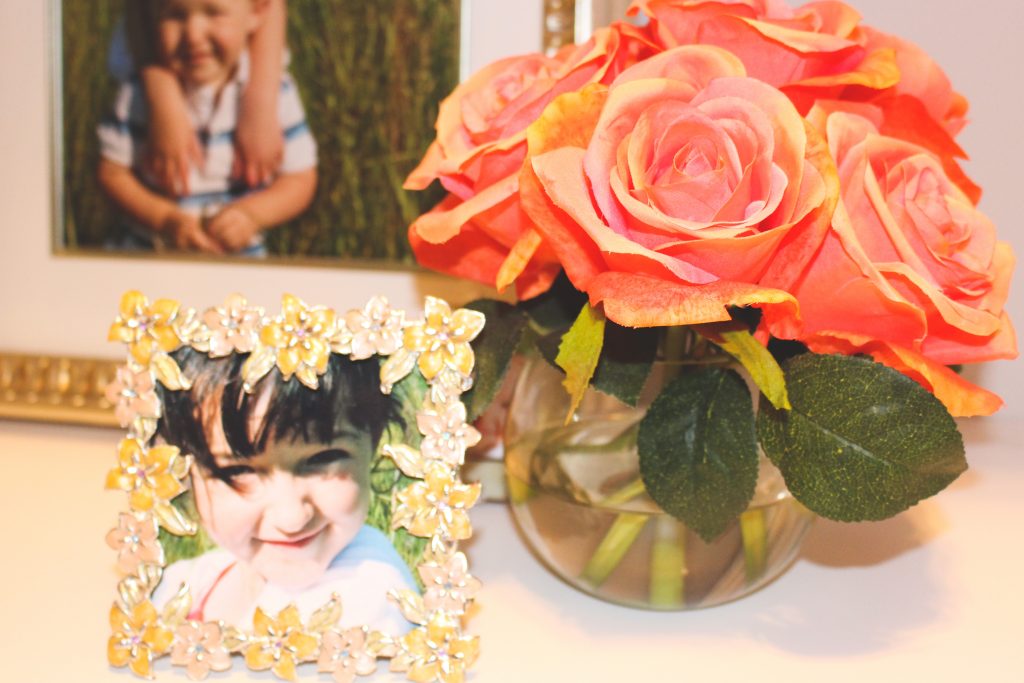 Step Five:  Finishing Touches
If you took it off, put your "Boutique Display Person" hat back on and look at your space. Look for opportunities to incorporate items that make you happy every time you see them. Do you have any room for a small, framed photo, a clock, some faux flowers, or a chair? A favorite piece of jewelry can make a pretty, uncluttered display.  How about swapping out the knobs on a plain dresser for something more decorative?
What about the room itself? Perhaps consider a more substantial light fixture.  I've seen an accent wall or just the backs of shelves painted in a bold color that really pops.  Refer back to your Pinterest ideas. 
You'll find once you've put the effort into creating your own boutique, like any shop owner, you'll naturally become more selective about what you purchase to go in it. But there are some skills you'll want to develop.
Now, it's time to learn to shop like a stylist!
I'd love to know what choices you made for your closet! Let me know in the comments below. And feel free to email me some photos too!
And if you haven't already, subscribe! You'll receive what you need to build a closet full of flattering outfits that fill you with confidence and make you shine.