Nordstrom Sale: Ultimate Guide To The Best Timeless Picks
Nordstrom is at it again with their stellar Anniversary Sale! And this is your ultimate guide to the best picks.
It's the time of year when they offer new, incoming merchandise at sale prices! But only for a limited time, as prices will go right back up before you know it.
If you are a Nordstrom cardmember, depending on the status chart below, your VIP early access could start now! And if not, all the details on how to become an early access member are on Nordstrom's The Card's The Key website page.
As a professional stylist and personal shopper, I had an early sneak peek so I could nudge you in the right direction of what you should consider for your closet (not to mention some added home and beauty exclusive bonuses!). You'll find all the smart choices below, but first, some quick facts and savvy advice:
When Can I Shop?
If you're unsure when your preview starts, visit the Anniversary Sale Early Access page to find out.
Sale Shopping Tips
Do your homework. This is a great time to edit your closet. Find out what you're missing and what you need to replace. Buy what you need.
This is a great time to shop for investment pieces. Look for classic, timeless styles. Spend more to get so much more that will last for years to come.
Buy the right size. Don't grab it in the next size up thinking you'll alter it without considering the cost of alterations. That could cancel out your savings altogether.
Impulse shopping is a no-no, but the Nordstrom Anniversary Sale is kind of an exception to the rule. Things sell out fast. But instead of impulse, go with instinct -your first instinct. Thankfully, Nordstrom's generous return policy will save you if you make a mistake.
Shop online. They'll have so much more in stock and you won't have the added anxiety of a desperate environment. Get your must-haves online, then consider enjoying an added trip to the store for extras without the worry.
Buy your must-have items ASAP! Then go back and browse. It's ok to place multiple orders. You don't want to miss out on your number one choice while browsing for number five.
 Make your Wish List ahead of time! Find the items you'd like to purchase and add them to your wish list right there on the product page. Nordstrom makes it easy for you to pre-shop and quickly purchase whatever is still available on the day you receive access to the sale.
Check back often. Popular items are often restocked, so if something on your wish list is sold out one day, it may be back the next.
And now, the fun part: Let's go shopping!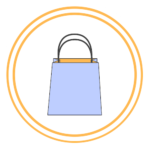 Clicking on the products in this post takes you right to them or to where you can search for them, depending on their availability. When making a purchase through these links, a commission is potentially earned by WWTNT at no extra fee to you.  Rest assured, I only feature products that I truly value for my readers.
Tops:
Sweaters:
Dresses:
Coats:
Jeans:
Pants and Skirts:
Lingerie:
Beauty Bargains:
Shoes & Socks:
Handbags:
Jewelry:
Sunglasses:
Scarves:
Hats:
Home:
Now you're ready!
Head over to Nordstrom's Anniversary Sale and start shopping. Depending on the date, either start building your wish list or have your credit card at your side. Let me know how it goes and send me photos of what you find!