How To Look Good And Save Money: The Stay At Home Mom
The Affording Motherhood Webinar Companion
I was fortunate to spend some time with Shannon Clark and the members of her incredibly helpful website, Affording Motherhood. Shannon gives thousands of grateful mothers the information and inspiration they need to work from home and budget successfully – so they can spend more time with their families.
Many of her members, like most stay at home mothers, put themselves last when it comes to new clothes. Your husbands need clothes for work and the kids are constantly outgrowing theirs, so there isn't much left over for you. Shannon asked me to step in and show you how a capsule wardrobe full of budget friendly pieces can offer you a smart, and much deserved turn at something new, for you.
As the featured guest on Shannon's webinar, 5 Essentials Every Smart SAHM Needs in Her Wardrobe, I discussed those essentials, as well as how to create a capsule wardrobe full of outfits that will go "from the floor to the store" without breaking the budget. You need to be comfortable, but still want to feel polished. Find out how to accomplish this by watching the webinar and then referring to the rest of this post for highlights and links to fantastic, wallet-friendly finds!
Let's apply these!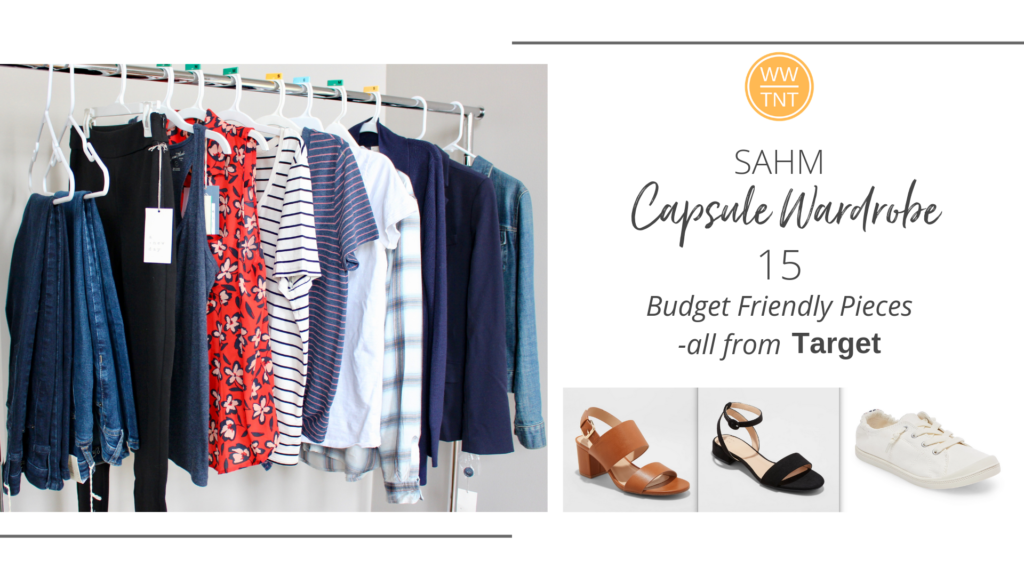 1. Toppers
A slinky navy cardigan to wear over tanks and other sleeveless tops immediately takes a basic outfit up a notch. A soft, navy jacket that feels like wearing a cardigan, takes that notch even further up, because the shoulder maintains enough structure to look polished (see below in the shopping section for a ponte knit jacket that "seamlessly" combines a cardigan and a jacket!). And finally, a classic denim jacket can be worn with everything, including skirts and dresses.
2. Elevated T-Shirts
They may look like ordinary t-shirts, but if you look closer, you'll notice fabrics that drape, subtly scooped necklines, and added details like a knotted front. And the floral sleeveless top looks delicate and romantic, but its fabric is built to last.
3. Legging Alternative
Ponte pants are an excellent substitution for yoga pants. They are just as comfortable, stretchy, and durable, but their pant-like details are a definite step up from the gym. Keep in mind that ponte fabric can often run big, so be prepared to size down.
4. Dark Denim
If you only buy one pair of jeans, make them dark denim. This inky tone can easily be dressed up or down. Look for an inside tone that will show some contrast if you wear them cuffed.
5. Refined Shoes
In general, look for visually lightweight shoes. Thin straps and subtle details are feminine and refined. Block heels provide more stability and comfort, so it's ok to go higher. And sneakers are less bulky than gym shoes.
Put them together!
Just a note…
These are just a sampling of the many outfits you can put together with the 15pc SAHM Capsule Wardrobe I created from Target. Unfortunately, the tan sandals and sneakers didn't arrive in time for the photos, so I substituted them with something similar from my closet.
Other Options
During the webinar, I discussed the comfortable flexibility of casual skirts and dresses. I also showed a way to get yoga pants or leggings out of the gym by adding an elevated t-shirt, a stylized shoe, and an outerwear piece that covers the rear.

Click below…
When you click on the products below, you'll be taken right to them. If you make a purchase through these links, a commission is potentially earned by WWTNT at no extra fee to you. But don't worry, only products that I truly value for my readers are chosen to be featured.
15pc SAHM Capsule Wardrobe
Alternatives & Additions
Additional Accessories
15pc Plus Size Capsule Wardrobe
Plus Size Alternatives & Additions
Join me!
Thank you again to Shannon Clark, creator of Affording Motherhood , for the introduction to the many mothers that want to spend their money wisely. You are hard workers who deserve to feel refreshed and confident when you get dressed each day. I'll continue to create content that will help you accomplish that. More posts like:  How to Edit Your Closet Like a Stylist (so you can add to the things that are already working well and lose the clutter that isn't), How to Discover Your Signature Style (so you don't waste money on things you won't wear), and the Under $100 Series featuring smart finds at great prices.
I'd like to give you 5 more things!
When you become a member of the WWTNT community, you'll learn simple methods that will help you develop your style and confidently modify your wardrobe to fit your lifestyle, without the frustration of wasting time or money. Subscribe now (see below), and you'll receive my FREE 15 minute mini course as well as a business card sized checklist that you can refer to while shopping. It will help you put an end to that nagging buyer's remorse!