The Essential Wardrobe Checklist: Take It To The Next Level
Welcome To The Essential Checklist Series!
Whether you're shopping for basics or looking to level up, these lists will be your guide!
Over the next two months, a Take It To The Next Level category will be released each week. There will be shopping links for each itemized suggestion, as well as new merchandise added to the WWTNT Shop that will help you fill your wardrobe with the things you need to kick your wardrobe up a notch or two!
As a Bonus:
This series includes another Essential Checklist: Top Timeless Classics. You may have received this before in a previous email, if not, it will be running simultaneously for both subscribers and non-subscribers. Each week, the same category will be released, but with different suggestions that will help you make sure you have a strong foundation for your wardrobe.
At the end of the series, you'll receive a link to a printable version of each complete checklist.
Take It To The Next Level
Once your wardrobe has a strong foundation of timeless classics or basics (not necessarily "classic" in style), it becomes easy to add more engaging variety into the mix. Embellished or brightly colored clothing and accessories can be toned down by combining them with neutral basics (think white button down shirt or blue jeans).  Or, you can go all out by wearing next level items together.
Do I Need All of them?
This list provides suggestions for your wardrobe. You don't need every item. Consider your lifestyle, your shape, and your climate when deciding which ones apply to you. For instance, a pencil skirt may not be a flattering cut for your figure, or a puffer jacket isn't necessary for where you live.
But Which Style?
Your signature style will dictate which style to purchase. For example, if you favor minimalism, your silky blouse will be simple, with an emphasis on a modern cut. But if you tend to be more romantic, you'll choose one with a floral pattern or other feminine detail.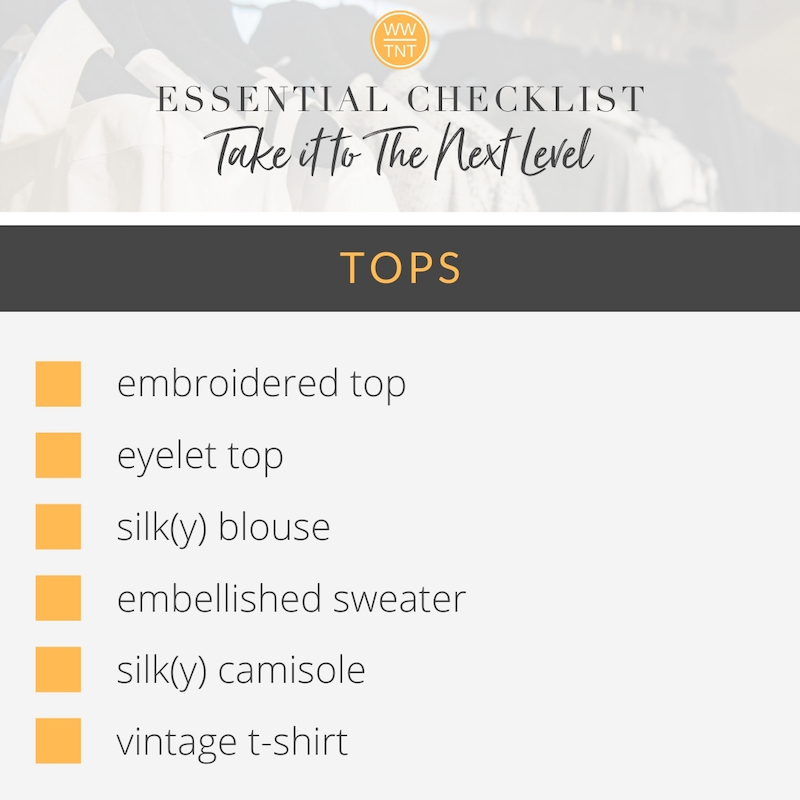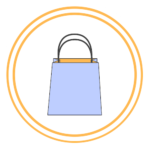 Clicking on the products in this post takes you right to them or to where you can search for them, depending on their availability. When making a purchase through these links, a commission is potentially earned by WWTNT at no extra fee to you.  Rest assured, I only feature products that I truly value for my readers.
Embroidered Top
Embroidery is a beautifully delicate way to take your tops to the next level. Generally, the more elaborate the embroidery, the more expensive the top.
Eyelet Top
Eyelet is traditionally a Spring/Summer style, but in darker colors, it can be worn all year around (unless you're in the tropics – then anything goes!). Nude undergarments in your skin tone are best for disappearing behind this sometimes revealing design.
Silk(y) Blouse
Sleek shine will level up your appearance and can be dressed up or down easily. Real silk is a worthy investment, but there are also very convincing look for less alternatives made of viscose. Make sure to get your size right. Unless it's made to be stretchy, this fabric can be unforgiving. And go with smooth undergarments, as lace causes noticeable ripples.
Embellished Sweater
Sweaters with sequins, bobbles, sashes, and other embellishments are perfect for topping off your favorite jeans, leggings, and skirts.
Silk(y) Camisole
Wear a camisole the same way you would wear a t-shirt: under jackets and cardigans, and even by itself. It's ultra-lightweight and feminine.
Vintage T-Shirt
You are never too old for a "vintage" tee! Even if it's brand new, it's a fantastic way to express yourself.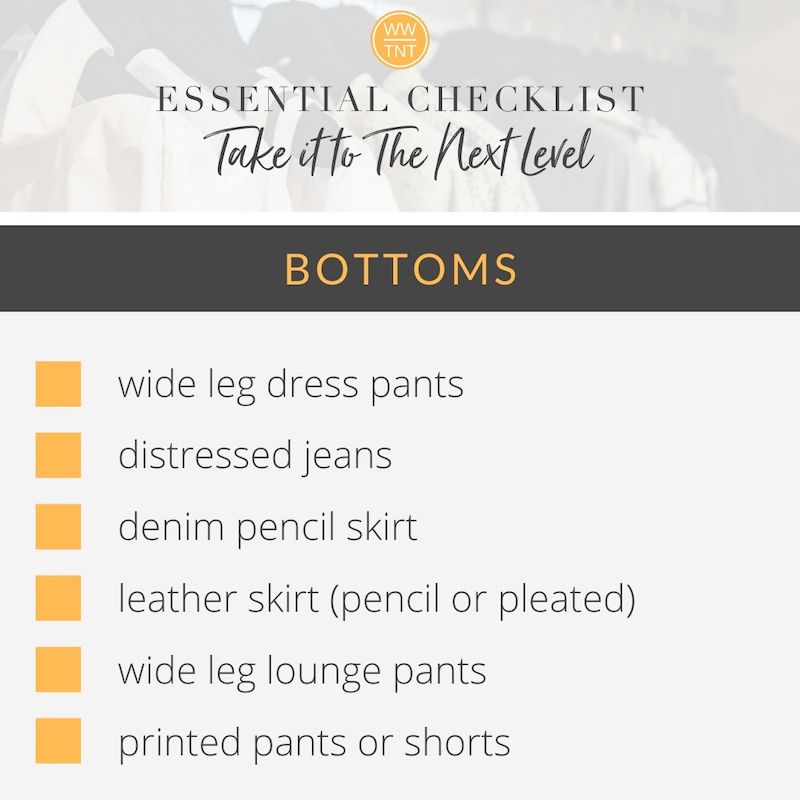 Wide Leg Dress Pants
A full leg trouser offers the elegance of a long skirt, but the convenience of a pant. It's a-line shape is universally flattering because it balances out anything fuller above it.
Distressed Jeans
A little rip and tear adds interest to denim, but don't overdo it! Keep it at the hemline or knee level. Leave the ultra-revealing tears to the teenagers.
Denim Pencil Skirt
Casual tees immediately look sophisticated when paired with a denim pencil skirt. It's a smart way to step up your look and still be casual (ideal for "dressy casual" occasions). 
Leather Skirt (Pencil or Pleated)
Leather has a fantastic texture that adds edgy interest to any outfit. The faux and vegan varieties have come a long way in replicating the look and feel of real leather.
Wide Leg Lounge Pants
Like wide leg trousers, wide leg lounge pants offer a universally flattering a-line shape and kicky elegance to your "around the house" game.
Printed Pants or Shorts
A clever trick for drawing attention away from a fuller top is a printed bottom. Smaller patterns generally tend to be more flattering.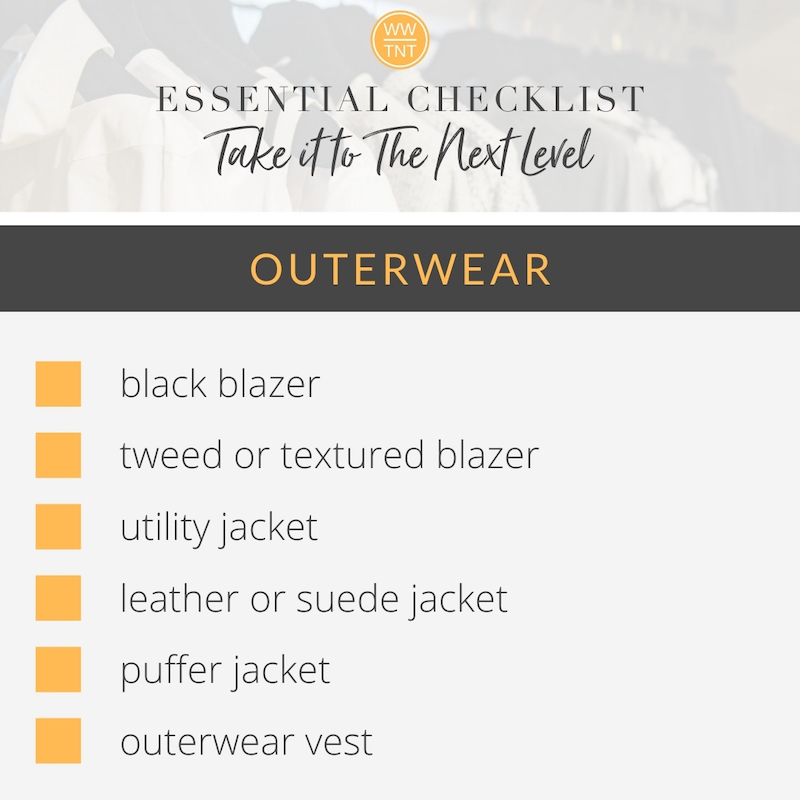 Black Blazer
A black jacket is the frame of your outfit. Whether you choose one that's structured, or one that's more cardigan-like, it firmly establishes the line of your ensemble.
Tweed or Textured Blazer
Credit Chanel for establishing the tweed jacket as a forever piece. Texture always adds interest to your outfits. In addition to tweed, consider corduroy, boucle, or other tactile fabrics as well.
Utility Jacket
Also known as a safari jacket, the utility jacket has enough pockets to keep your day hands free. Look for one with a belt or drawstring waist to help create an hourglass silhouette. And don't overfill the pockets!
Leather or Suede Jacket
Like a tweed jacket, leather and suede offer interesting texture to an outfit. Lightweight versions can be dressed up or down as blazers with pants, skirts, or dresses.
Puffer Jacket
The trick of a puffer jacket is finding the right amount of puff. How much can your shape handle without getting lost? You can keep the line slim by choosing a flattering length that maintains a waistline.
Outerwear Vest
An outerwear vest is perfect for fluctuating Spring and Fall weather. Sherpa, shiny fabric, or quilted details all add interest to your overall look.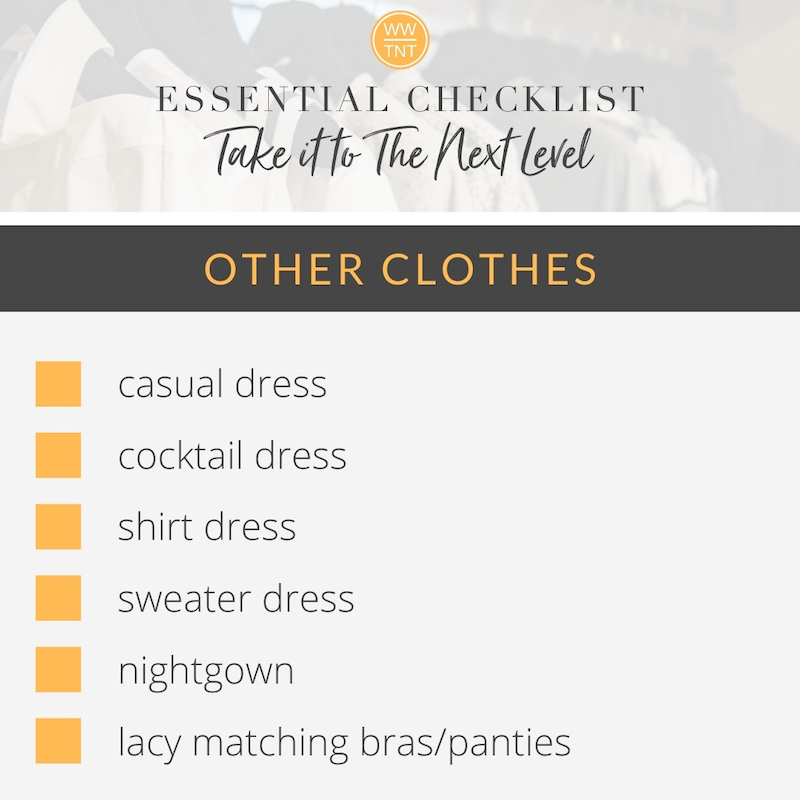 Casual Dress
Dresses are the easiest outfits you have in your arsenal. Why save them just for work or wait for an "occasion" to wear one? Casual dresses can be worn with comfortable sandals or sneakers and add a refreshing polish to your appearance.
Cocktail Dress
If you attend weddings or cocktail parties (even just one), you should own a cocktail dress. Feeling underdressed is embarrassing and feeling pretty uplifts you. There are many affordable options. If you don't have a lot of use for one, choose something simple and classic that you can update with different shoes and accessories.
Shirt Dress
This is another casual dress that makes getting ready in the morning a breeze. Pair it with a variety of shoes, even sneakers. Look for one that either tapers in slightly at the waist or has a belt to give you some shape.
Sweater Dress
Another easy piece, sweater dresses can be worn year round depending on their gauge (weight). In colder weather, heavier dresses look knockout with boots. Lighter weight styles are versatile enough to be dressed down with sneakers.
Nightgown
This is something you do just for you and it makes you feel pretty. How many black tie opportunities do you have to wear an evening gown? Do this instead and wake up feeling elegant (not dumpy). It really makes a difference in your attitude toward taking care of yourself.
Lacy Matching Bras & Panties
Like a special nightgown, this is something you do just for you (and maybe a partner) and it really does change your mindset as to how you feel about yourself. Do yourself a favor, and when you buy your next bra, look for something lacy and buy a couple matching panties to complete the set.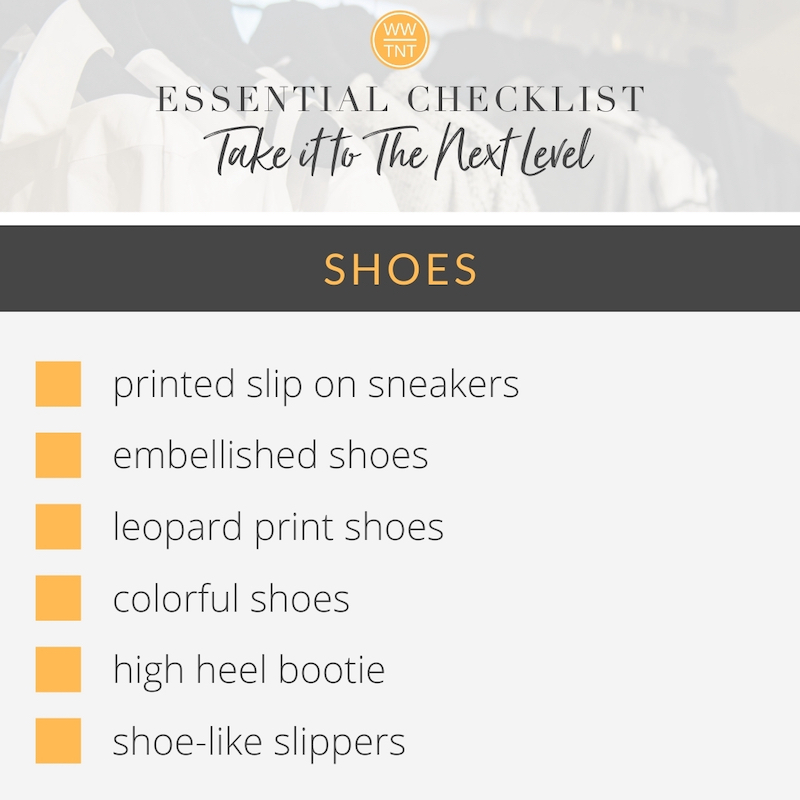 Printed Slip On Sneakers
These add some fun interest to your outfit and are especially helpful if you're trying to draw the eye downward to your great legs! Not to mention, they can be as comfortable as gym shoes.
Embellished Shoes
Another smart way to show off your pretty legs is to draw the eye downward with embellished footwear. Embroidery, colorful accents, sparkle, faux fur, and feathers all do the trick.
Leopard Print Shoes
Instead of a plain black shoe, try something that pops. Leopard print is actually considered a neutral pattern and goes with just about anything black does. I like to pair it with a "plain" outfit and let it have the spotlight, but it also works when you're mixing patterns and prints.
Colorful Shoes
One of the easiest ways to add a pop of color to your outfit is to sport vibrant shoes. Your handbag should be a neutral shade or one that complements the shoe.
High Heel Bootie
Booties don't cut the leg off as high as tall boots do, therefore elongating the legs. They offer a sleek, edgy look with a skirt or dress.
Shoe-Like Slippers
These have a durable sole for around the house and running out to the mailbox, but could also do a lazy morning coffee run in a pinch!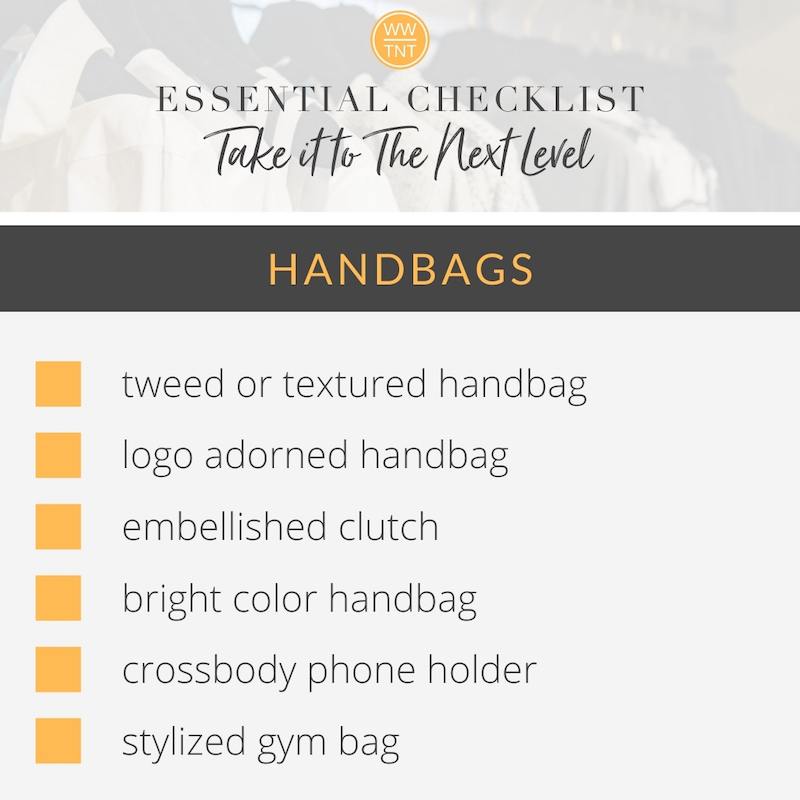 Tweed or Textured Handbag
This handbag is as timeless as the quilted leather shoulder bag. It can be dressed up for work or dressed down with jeans and a tee. It's a forever bag.
Logo Adorned Handbag
Logos are a tricky thing. You want to be sporting a good one, and that can get really expensive. Consider less expensive high end bags, or hunt for an incredible deal at a consignment shop, like The RealReal.
Embellished Clutch
A clutch with a little something extra is like a work of art for your outfit.
Bright Color Handbag
This is a smart way to add a pop of color to your look (and brighten your day!).
Crossbody Phone Holder
Sometimes you just need your phone and don't want to be bothered with a cumbersome handbag. These are the perfect answer to keeping your outing hands free.
Stylized Gym Bag
Set the mood for your workout by ditching the old duffle bag, getting serious, and showing up to the gym in style.
Stackable Rings
A stack of rings worn together or spread across the hand is a very current look and beautifully accessorizes an outfit. Keep them all in the same color metal for a more cohesive look.
Statement Earrings
No matter how big a statement you'd like to make, there are knockout earrings waiting to steal the show. Keep all other jewelry to a minimum.
Bracelet Band Men's Watch
Take your watch game to the next level by going big. A hefty men's watch worn as a loose bracelet is stylish and eye catching.
Cocktail Ring
A lovely way to accessorize your evening's look is to add a special ring for the occasion. And don't be afraid to sport it with jeans and a tee either!
Cuff Bracelet
A chunky cuff style bracelet makes a statement. Keep other jewelry to a minimum.
Lariat Necklace
A lariat necklace draws the eye downward the same way a v-neckline does. A delicate lariat is quietly alluring, while a large lariat makes a stronger statement.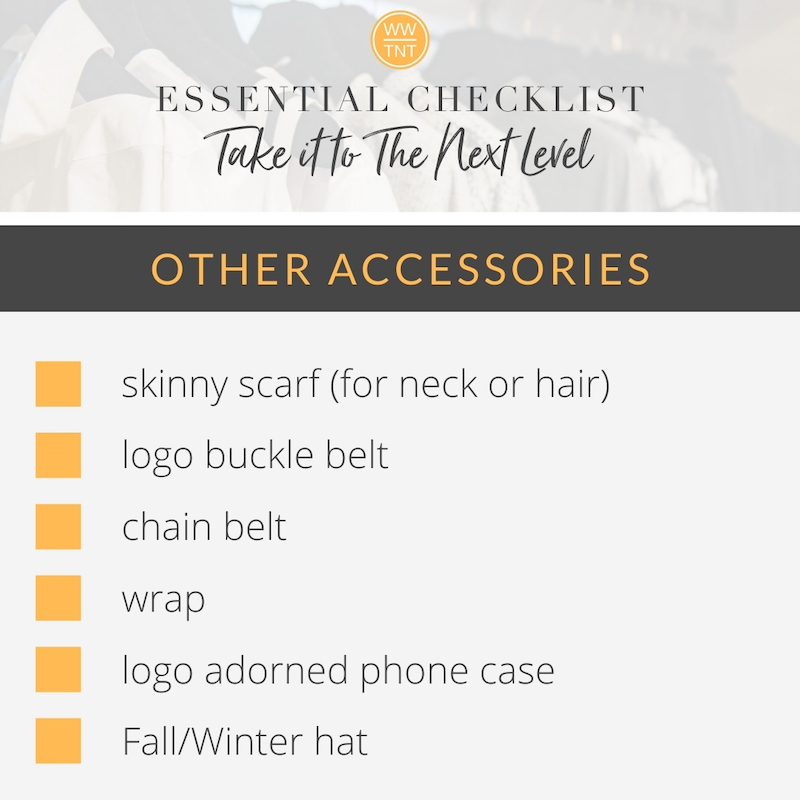 Skinny Scarf (For Neck Or Hair)
A narrow scarf adds a splash of color tied around your neck or in your hair. It's a pretty way to draw the eye upward.
Logo Buckle Belt
Logo belts draw attention to your waistline and are offered in a variety of styles. High end logos come with high end prices. If you're looking for a discount, try The RealReal.
Chain Belt
Chain belts are jewelry for your waist. They can get very expensive, but they're a timeless investment that never goes out of style.
Wrap
Sometimes a wrap around your shoulders is all you need on a cool night, especially if you're wearing a top that's hard to get under a coat (hello off-the-shoulder tops).
Logo Adorned Phone Case
If your phone is constantly at your side, make sure it's got some style. Whether you use a designer phone case or pop it in a crossbody phone carrier, treat it like an expensive accessory.
Fall/Winter Hat
Don't leave wearing hats just for the beach! There are lots of Fall/Winter options to keep you cozy. Some even come with mix and match pom poms.
This category completes The Essential Checklist: Take It To The Next Level. I'm giving you a checklist download with all the categories, so you'll have what you need at your fingertips.
Don't forget to take a look at the Top Timeless Classics Checklist and see what other accessories you should have in your wardrobe.