The Essential Wardrobe Checklist: Top Timeless Classics
Welcome To The Essential Checklist Series!
Whether you're shopping for basics or looking to level up, these lists will be your guide!
Over the next two months, a Top Timeless Classics category will be released each week! There will be shopping links for each itemized suggestion, as well as new merchandise added to the WWTNT Shop that will help you fill your wardrobe with the basics you need.
And, as an Exclusive Bonus:
Subscribers will have access to another Essential Checklist: Take It To The Next Level. Each week, the same category will be simultaneously released, but with different suggestions that will kick your wardrobe up a notch!
So, if you haven't already, be sure to subscribe at the bottom of this post! You'll get the password you need to grant you access to the Subscribers Only Page, as well as the free mini course, 5 Things You Need to Know to Confidently Build a Wardrobe You'll Love.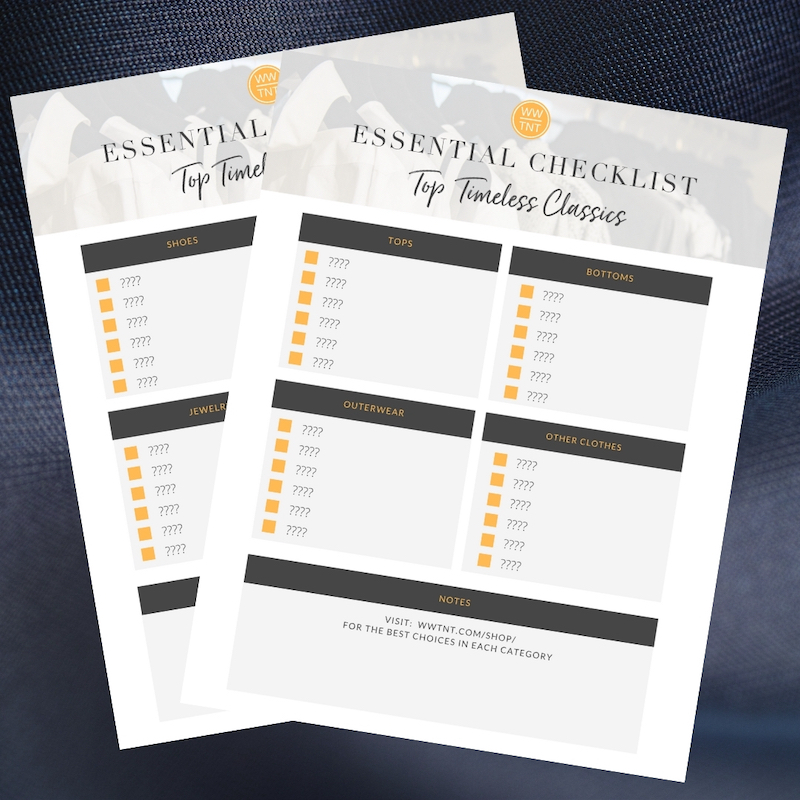 Top Timeless Classics
No matter what your signature style, there are timeless classics every wardrobe needs. Think of them as the foundation of your wardrobe upon which you build. Because they are timeless, they've been around for ages and you probably know several of them already. But some of them are not what you would expect.
Do I Need All of them?
This list provides suggestions for your foundation. You don't need every item. Consider your lifestyle, your shape, and your climate when deciding which ones apply to you. For instance, a pencil skirt may not be a flattering cut for your figure, or a top coat isn't necessary for where you live.
But Which Style?
Your signature style will dictate which style to purchase. For example, if you favor minimalism, your white shirt will be simple, with an emphasis on a modern cut. But if you tend to be more romantic, you'll choose a white shirt with ruffles or another feminine detail.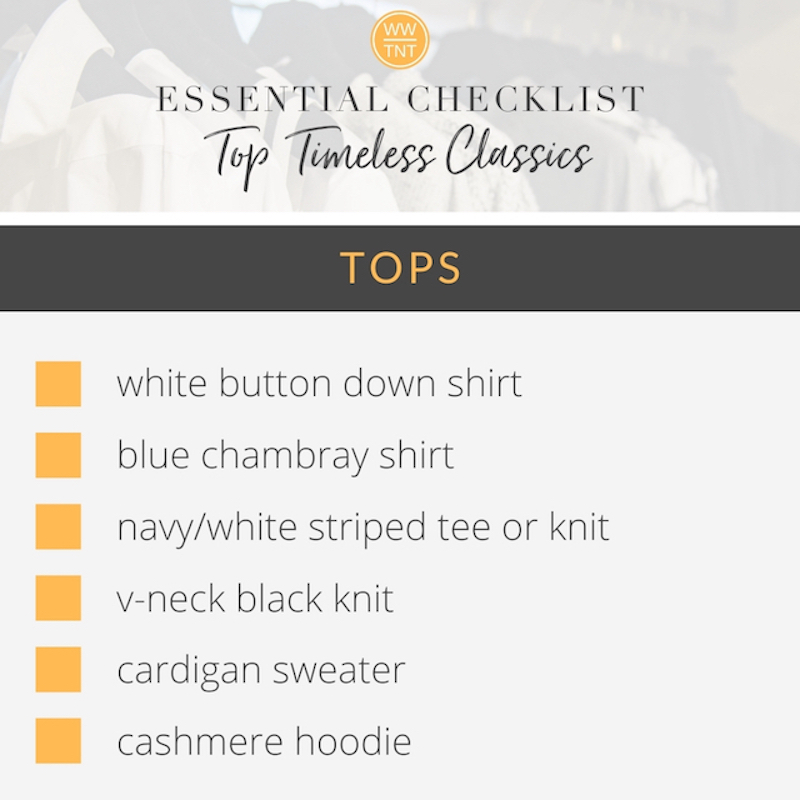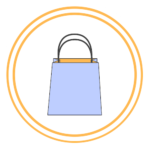 Clicking on the products in this post takes you right to them or to where you can search for them, depending on their availability. When making a purchase through these links, a commission is potentially earned by WWTNT at no extra fee to you.  Rest assured, I only feature products that I truly value for my readers.
White Button Down Shirt
A white shirt is one of the most versatile items in your wardrobe. Under a jacket or cardigan, it provides a frame for your face. Worn alone, it goes with virtually every color out there. Go with something structured, or one that's relaxed, or something light and gauzy (or even all three!) Whatever fits your signature style.
Blue Chambray Shirt
Durable, colorful, and more interesting than a t-shirt, this workhorse can be worn alone or even as a "jacket" over a tank or tee.
Navy/White Striped Tee or Knit
The navy and white striped shirt is a nautical, timeless classic and is a staple of any Francophile wardrobe. Wear it alone or peeking out from underneath outerwear.
V-Neck Black Knit
You might have expected a turtleneck, and can certainly substitute one here. However, a turtleneck emphasizes the jawline and depending on your skin's elasticity, it can draw attention to your age. A v-neck, scoop neck, or crew neck offers a more flattering, lower neckline.
Cardigan Sweater
A cardigan is a comfortable topper that adds interest to your outfit. It can immediately take you from "around the house" to "out and about".
Cashmere Hoodie
This is another unexpected topper that is really quite versatile. A zip up hoodie can be dressed up (with a blouse and skirt) or down (jeans and t-shirt). It's softness and longevity are worth the investment.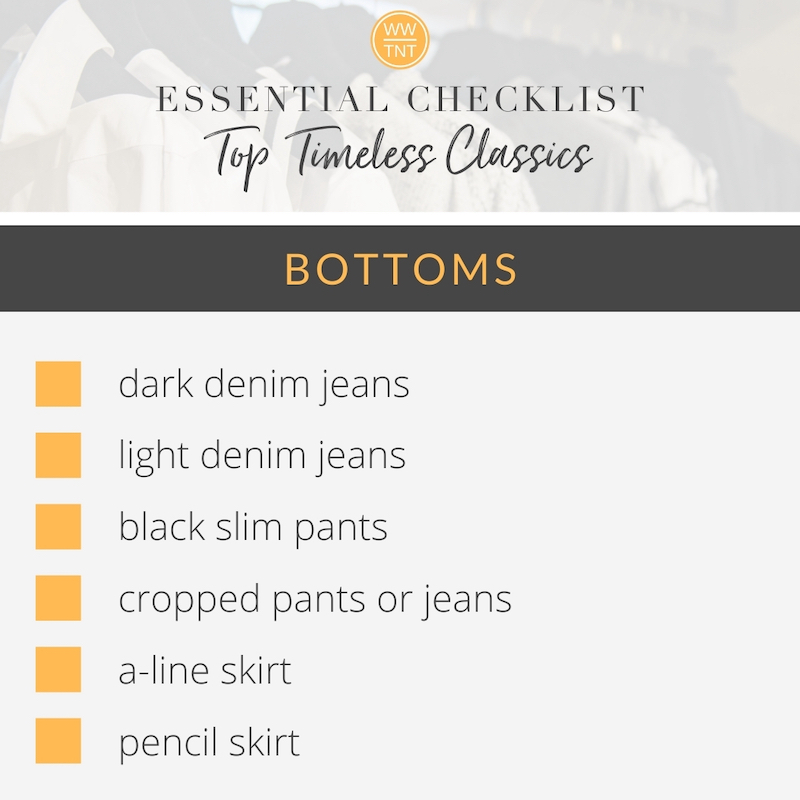 Dark Denim Jeans
Think of dark denim as your "dressier" jeans. It lends itself to being dressed up more than medium or lighter versions. You'll want to wash it infrequently to help maintain its rich color.
Light Denim Jeans
These are your "casual" jeans and they go with everything. They are more forgiving than white pants, while offering the same contrast to any darker colors you pair with them.
Black Slim Pants
Substitute slim black pants for leggings or yoga pants. It's a more polished look and can be just as comfortable when made from stretchy fabrics like ponte.
Cropped Pants or Jeans
A nostalgic throwback to the fifties and sixties, there's no better way to show off a knockout pair of shoes.
A-Line Skirt
An a-line skirt is universally flattering. It balances out a figure that is fuller on top and makes a figure that is fuller on the bottom seem smaller because it bells out at the hemline. And it offers curves to someone with a straight shaped body.
Pencil Skirt
A pencil skirt is sophisticated and feminine. Ideally, the hemline should hit just above knee. Look for something with some elastin (stretch) that will help keep its shape.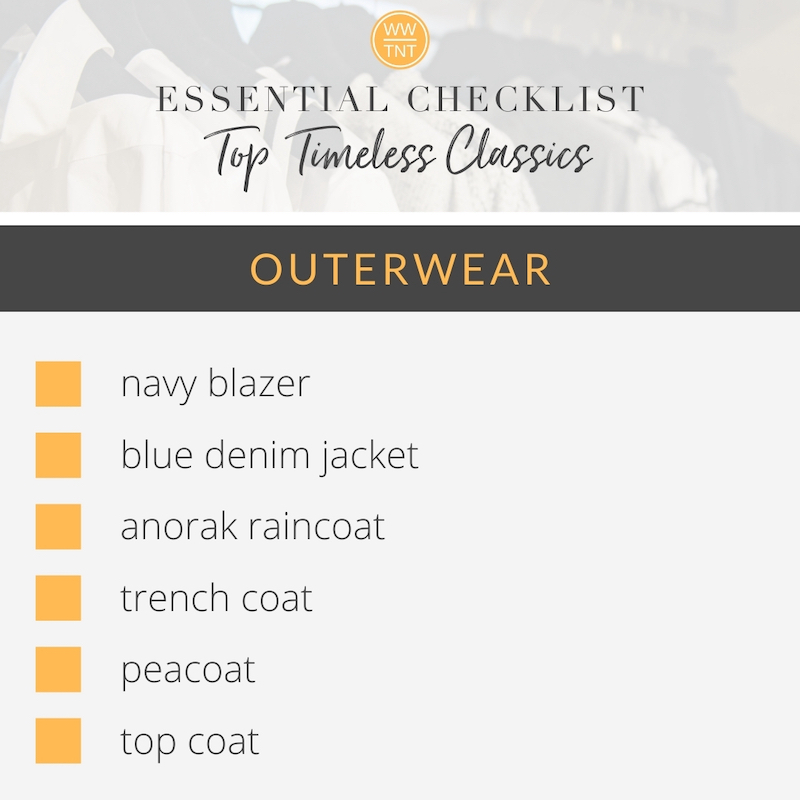 Navy Blazer
A navy jacket is an ideal topper that can easily be dressed up or down. Whether you choose one that's structured or more cardigan-like, its flattering, neutral color and polish will elevate your outfit.
Blue Denim Jacket
You can top virtually anything with a denim jacket and immediately create an edgy, yet approachable look. The bolder the blue, the more it will light up your face.
Anorak Raincoat
The main reason to go for an anorak style is the drawstring waist. Be sure to cinch it in to create a flattering, hourglass silhouette.
Trench Coat
A lightweight, mid-length, belted trench coat creates a beautiful hourglass shape as well. Choose one that fits in the shoulders, but doesn't have too full a "skirt" and wear the belt tied in a clean knot, not belted.
Peacoat
With its strong shoulder, the masculine, military style of a peacoat adds strength and structure to your outfit, while playing beautifully against feminine lines.
Top Coat
A top coat finishes your outfit. Choose something lightweight in a neutral color. Look for a structured shoulder to balance your shape. And keep your hemlines in mind when choosing a length for skirts or dresses. The coat should end just below the hemline.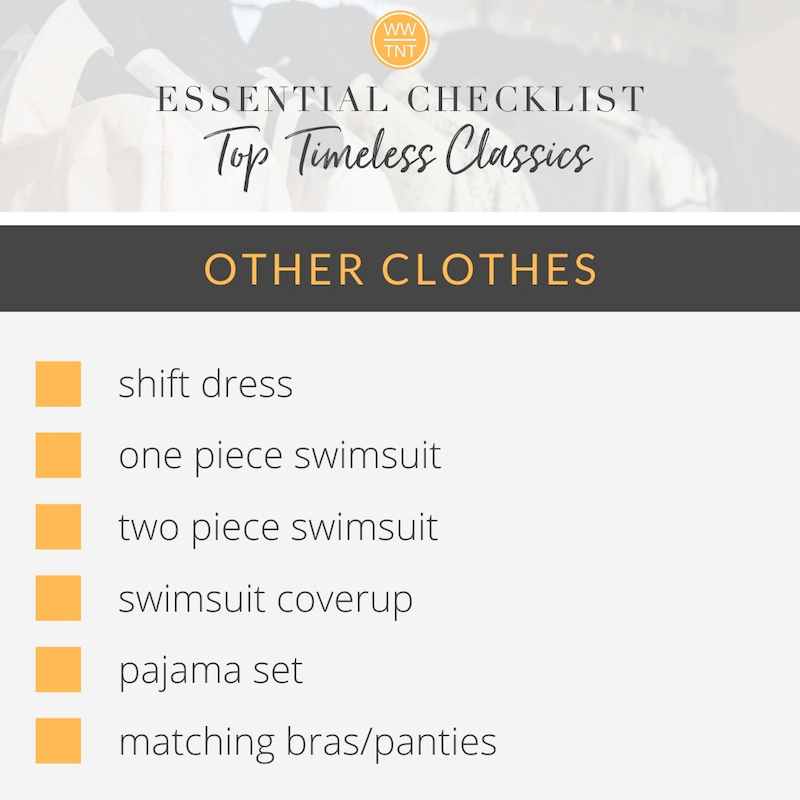 Shift Dress
The shift dress or sheath dress follows the natural lines of your figure. Look for one that defines your waist, whether it's with gathered fabric, a belt, or some other design detail. The most flattering styles drop straight from the hip and slightly taper to just above the knee.
One Piece Swimsuit
As we get older, we sometimes look for more coverage in swimwear, but we don't have to sacrifice style. Avoid large prints and instead go for solid colors or small patterns. Belts, gathered fabric, wide set straps, and deep v necklines can all be very flattering and are details you can use to direct the eye to your best assets.
Two Piece Swimsuit
You can wear a bikini for as long as you like, as long as you choose one with great support and coverage in the right areas. Helen Mirren was sporting one at 65 and looked fantastic. Solid colors or small prints are most flattering. Use deep v necks, gathered fabric, ruffles and other design elements to direct the eye to your best assets. And don't forget sunscreen!
Swimsuit Coverup
Do not go without a swimsuit coverup. Not only is it sophisticated and appropriate, but it completes your outfit and is much more flattering than a towel wrapped around your waist at the tiki bar. Choose a length the same way you would choosing a dress.
Pajama Set
This is something you do just for you and it makes you feel pretty. These are loungewear "outfits" you can change into early in the evening as things wind down and wake up in feeling elegant (not dumpy). It really makes a difference in your attitude toward your appearance.
Matching Bras & Panties
Like pajamas, this is something you do just for you and it really does change your mindset toward taking care of yourself. Do yourself a favor, and when you buy your next bra, buy a few matching panties to complete the set. Be sure to line dry your lingerie, as the heat from the dryer will break them down faster.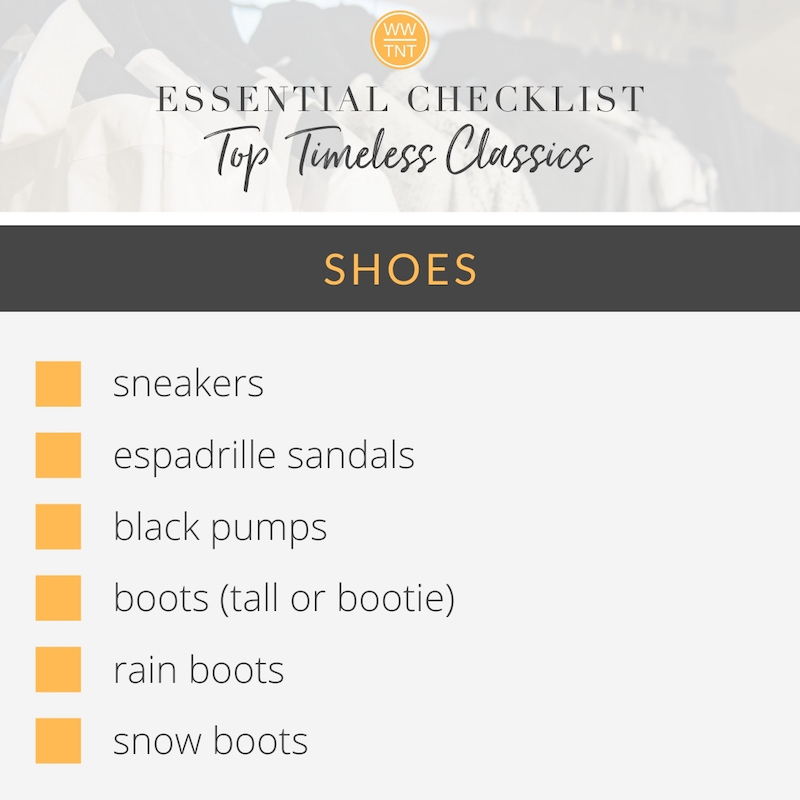 Sneakers
These are different from gym shoes in that they have a little more elevated style for your nonathletic daily outfits. Wear them with everything from jeans to casual skirts and dresses.
Espadrille Sandals
This timeless sandal is perfect with summer dresses and skirts. It offers lots of support and sophistication.
Black Pumps
As versatile as a Little Black Dress, and available in endless styles. The goal is something as elegantly refined looking as the Manolo Blahnik. But if you're on your feet all day, a block heel offers more support.
Boots (Tall or Booties)
A must have for any closet, these are something you'll look forward to taking out each season.
Rain Boots
Whether you choose a tall or shorter pair, look for slip resistant treads for traction on wet surfaces.
Snow Boots
If your climate calls for it, it's a smart idea to invest in durable, timeless snow boots. The lace up "duck boot" never goes out of style and is expertly sealed against everything cold and damp. Shearling and faux fur help to keep your feet cozy and dry.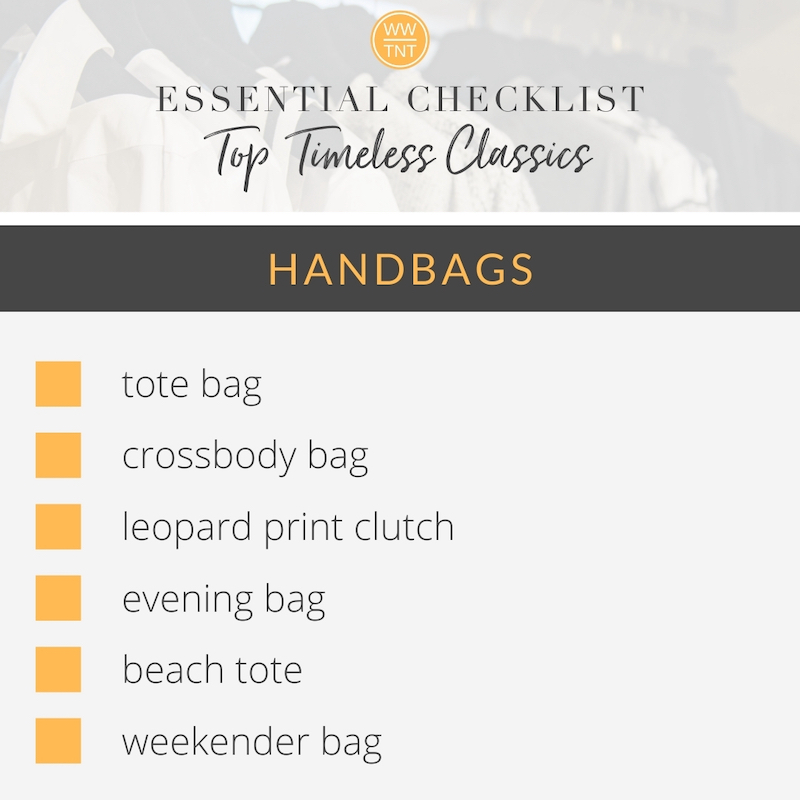 Tote Bag
This handbag is made for running errands. It's spacious enough for all you need and keeps your outing hands free.
Crossbody Bag
A truly hands free bag, the crossbody bag offers you freedom of movement while shopping, enjoying a concert, or other weekend fun.
Leopard Print Clutch
Treat leopard print like a neutral pattern: it goes with everything. A leopard print clutch is chic and elegant and can be dressed up or down.
Evening Bag
Don't take a regular handbag to a cocktail party. You deserve a bag fit for the occasion, and there are many affordable options. Consider these special bags as jewelry for your outfit.
Beach Tote
Summery beach totes are bags you look forward to taking out when the season hits. Look for strong weaves that will stand the test of time (and sand!).
Weekender Bag
Again, don't use the wrong bag for the occasion. You deserve better than stuffing your fun weekend looks into an old duffel bag. Start your getaway on the right foot and show up in style.
Diamond Studs
These are your go-to everyday earring that goes with everything. Cubic zirconias are wonderful imposters as long as you keep them on the smaller side.
Metal Bracelet
Whether you stack a set of bangles, wear it alone, or with a watch, a gold or silver metal bracelet or two draws attention.
Bracelet Band Watch
Because our phones have stepped in to tell the time, the watch has become even more of a decorative piece. Choose one with a bracelet band to add some shine to your outfit.
Right Hand Ring
If you're right handed, that hand is doing most of the moving. Find something special to add to the attention it's taking anyway.
Pendant Necklace
Pendants come in all shapes and sizes. If you're smaller chested, a long necklace ending in a statement pendant is a beautiful choice. Those with a fuller bust, look knockout with a pendant that ends mid decollete.
Statement Necklace
No matter what size a statement you'd like to make, there's a necklace for you. A bold necklace can be dressed up or down and should be the star of the show. Keep other jewelry to a minimum.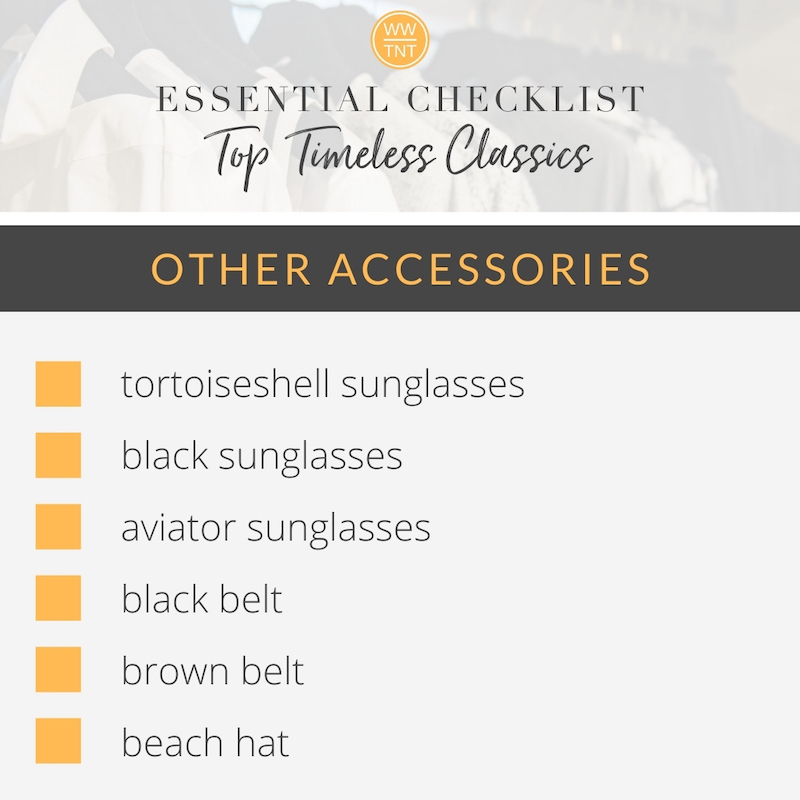 Tortoiseshell Sunglasses
There are three pairs of sunglasses you need: Brown, Black, and Metal Frames. Tortoiseshell refers to the speckled shades of brown in these sunglasses. The variation is flattering against your skin and goes with all your warm colors, dressy or casual.
Black Sunglasses
Black plastic framed sunglasses are very chic and a must have for any black outfits. Look for something substantial that works with the shape of your face. Here's a post to help!
Aviator Sunglasses
Metal framed glasses, like the classic aviator, are excellent for any sporty outfits. The masculine feel of these glasses is right at home with jeans and t-shirt.
Black Belt
A black belt is a trick for helping your waist "disappear". It's a trick stylists use to darken out that area and shift focus to other parts of the body. Corset belts are especially nice. Try one around the waist of a dress or skirt.
Brown Belt
A brown belt is the other must have for your wardrobe. It's a classic with jeans. Knotted leather and leopard print add more interest to your outfit.
Beach Hat
A beach hat is a must for protecting your skin. Look for tighter weaves and versions that are packable. Here's a post to help you.
If you're a WWTNT subscriber, head over to the Subscriber Page to see the new Other Accessories category in the Take It To The Next Level Checklist.
Not a subscriber yet? Sign up below! You'll receive the password you need to access that page.
And since this is the last installment of The Essential Checklist: Top Timeless Classics, I've included a checklist download of all the categories to have at your fingertips.