The Best Trinkets For Your Closet and Vanity Table
Once you've put all the effort into editing your closet and filling it with just the right treasures, your hard work deserves some rewards. You've turned your closet into your favorite place to shop! And beautiful boutiques have beautiful decor. Here are some items to consider for your closet shelves, dresser, vanity table and more. You've earned it!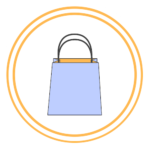 Note: Clicking on the product links below takes you right to them. When making a purchase through these links, a commission is potentially earned by WWTNT at no extra fee to you. But don't worry, I only feature products that I truly value for my readers.
Keep an eye out here for more treasures or simply subscribe and I'll make sure you're in the loop!