The Colorful Capsule Wardrobe: Template And Outfit Ideas
(SHORTCUT: Scroll down to the shopping bag icon for all the shopping links!)
There's been a capsule wardrobe trend booming on Pinterest lately. You'll find templates for all sorts of "paint by number" collections. It can be a bit overwhelming trying to find the one that best suits you.
To help with the confusion, I created a video that will teach you what a capsule wardrobe is, whether or not you need one, and if so, how to create one that's right for your personality, shape, and lifestyle. It's called How To Build A Capsule Wardrobe Without Making Big Mistakes and can be found on the WWTNT YouTube Channel. Alternatively, you can read the corresponding post here.
But if you're just looking for the rarely seen Colorful Capsule Wardrobe template with outfit ideas, you're in the right place!
The Colorful Capsule Wardrobe
This group of 24 bright and timeless pieces work together to create multiple outfits. Add a varied selection of accessories to the mix, and your outfit options will multiply rapidly. 
So many of the capsule wardrobe templates you find on Pinterest are based on neutral tones. Lots of khaki, white, and navy. I wanted to show you that it is possible to do an equally versatile wardrobe with bold colors.
You don't need to limit yourself to a safe, neutral palette. You just have to make sure you can combine all your clothing to make several outfits. 
We've got all the basics: tops and bottoms.  There are some classic pieces, like the jeans and white tee, because those are the building blocks of most casual wardrobes. But the pleated skirt, pink joggers, and orange overcoat are curve balls you can throw in to brighten up the overall look.
A Note On Pattern
Although much of what you see above is brightly colored, I've kept it pretty simple with mostly solid choices and just a few patterns. This makes it easier to mix and match. If you like more pattern, like geometric or floral prints, you'll just need to keep its overall color in mind to make sure it matches enough other items in your capsule. 
A Multitude Of Outfit Ideas
As you can see, these 24 pieces come together to create many different outfits, both dressy and casual. I wish you could see those navy pants better. They have this wonderful white ticking pinstripe that adds just the right amount of interest while still being neutral enough to match with everything else.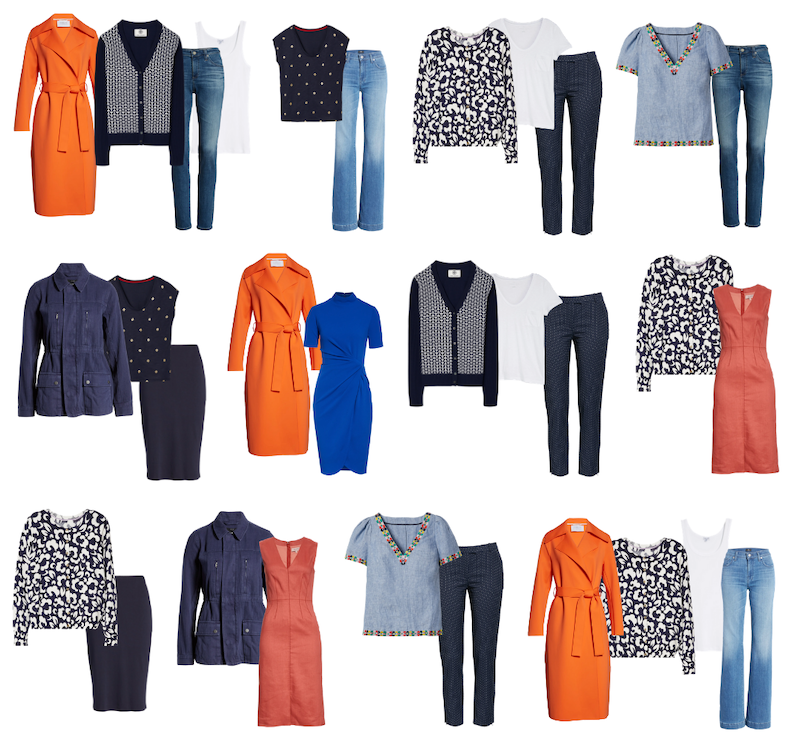 As you look at them, imagine how simply adding boots, heels, or sneakers could give each outfit a different look.
Which look would you wear out to lunch with friends? Which one would be comfy enough to run to the grocery store and still feel like you look good.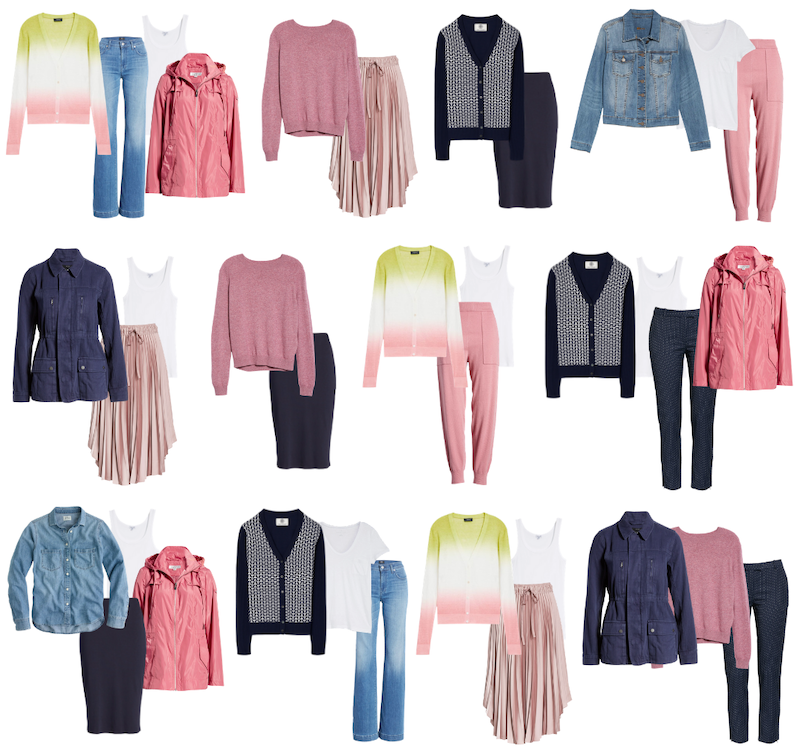 I've shown you 36 outfits. That's more than a month's worth of outfits from just 24 items. And there are still many combinations left to make. Imagine if you added a few classic pieces to the mix, for instance, a white button down shirt or a turtleneck sweater. You'd have even more outfits! And again, different accessories can turn just one combination into several outfits. 
The same capsule wardrobe concept can be applied to any number of shapes, colors, and styles. For a look at a more neutral template and outfits, visit: The Classic Capsule Wardrobe.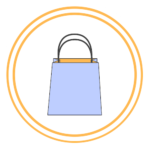 Click below…
Clicking on the products below takes you right to them. When making a purchase through these links, a commission is potentially earned by WWTNT at no extra fee to you. But don't worry, I only feature products that I truly value for my readers.