How Often Do You Need To Wash Jeans, Bras, And More?
Do you ever wonder how many times you can get away with wearing something before it needs to be laundered? This quick guide will tell you and you might be surprised. Most of us are over-washing our clothes and shortening their life spans in the process.
As you can see, it would be a great investment to have a steamer and a drying rack on hand. There are both handheld and stand alone steamers. The handheld are not quite as powerful, but they do the job. And if you have a laundry area, a wall mounted drying rack is a nice decorative detail to add.  Here are some I recommend: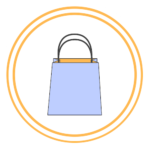 Click below…
Clicking on the products below takes you right to them. When making a purchase through these links, a commission is potentially earned by WWTNT at no extra fee to you. But don't worry, I only feature products that I truly value for my readers.
Click here for a printable version of the When To Wash Guide. Just download and print!
If you're looking for more ways to extend the life of your wardrobe, look for upcoming additions to the WWTNT Clothing Care page.