How To Do Hot Weather Autumn Outfits
What do you do when it's Fall, but it's still 90 degrees outside?!
You swap out your pastels for autumn colors and trade your espadrilles and canvas bags for leather. Read on for more ideas…
Hopefully, you're just in time to shop these lightweight autumn finds! One or two clicks on the images at the bottom of this page will take you right to them. Nonetheless, read on for a mini style lesson and use these ideas as inspiration for your next outfit.
Why these work…
Both blouses are in rusty, autumn shades, but are still breezy and lightweight enough for hot weather.
You can do darker color tees and knits as long as the fabric is light and airy. This is also the time to layer a sheer, gauzy top over a tank.
Jean skirts give you the look of Fall denim, but are more suitable for the warm weather.
You can still do shorts, but stick with longer lengths and darker colors in breathable fabric.
A lightweight shirtdress gives off an autumn vibe while still keeping you cool. Patterns in Fall colors are beautiful at this time of year, too.
Time to put away your espadrilles and other summer accessories. Go for leather shoes in Fall colors. Sandals still work as long as you're wearing autumn colored nail polish.
Your handbags and sunglasses should also reflect the season. Go for warm colors. Don't let the hot temperatures keep you from enjoying a Fall wardrobe!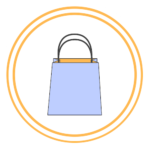 Click below…
Clicking on the products below takes you right to them. When making a purchase through these links, a commission is potentially earned by WWTNT at no extra fee to you. But don't worry, I only feature products that I truly value for my readers.
Do me a favor?
If you purchased something, I'd love to know how it worked out for you in the comments below. Feel free to email me photos of how you wear it as well! I read every comment and use what I learn from your feedback to choose what's best for you.
Next, if you haven't already, subscribe below!  You'll receive all that you need to build a closet full of flattering outfits that will fill you with confidence and make you shine.