Step Out Softly In Ombre Rosette
Hopefully, you're just in time to shop these great finds! One or two clicks on the images at the bottom of this page will take you right to them. Nonetheless, read on for a mini style lesson and use these ideas as inspiration for your next outfit.
Why these work…
You can mix and match everything here to create several outfits. Try just the tank top and skirt for a warm weather look or kick around in the joggers and cashmere sweater on cooler days. The ombre cardigan, tank, and skirt together create a casual, but elegant outfit for a Sunday brunch with friends.
The brick red color on the crossbody bag "guitar" strap is in the same family as the rose colored clothing, but the deep shade pops against the muted palette of everything else.
Because the sneakers are leather, they are "dressy" enough to wear with a skirt. But canvas sneakers and even athletic shoes work as well. Those will give the outfit a sportier look. Be sure to wear "no show" socks.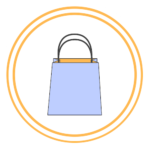 Click below…
Clicking on the products below takes you right to them. When making a purchase through these links, a commission is potentially earned by WWTNT at no extra fee to you. But don't worry, I only feature products that I truly value for my readers.
Do me a favor?
If you purchased something, I'd love to know how it worked out for you in the comments below. Feel free to email me photos of how you wear it as well! I read every comment and use what I learn from your feedback to choose what's best for you.
Next, if you haven't already, subscribe! You'll receive all that you need to build a closet full of flattering outfits that will fill you with confidence and make you shine.