The Best Full Length Mirrors at Reasonable Prices
Don't even think about walking out of the house without first checking in with your full length mirror!
Believe it or not, all mirrors aren't created equal. It's time to retire that cheap, over-the-door, dorm room model and find something more deserving of your reflection! But quality mirrors can be as expensive as some furniture. So, I've rounded up the latest steals from a very sneaky source: Home Depot!
With the right eye, you can find a fantastic look for less in a variety of shapes, tastes, and sizes. See which of these full length mirrors suits your style.
Bonus: I've also included a shorter mirror, because its shelves are perfect for your favorite accessories!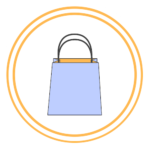 Note: Clicking on the product links below takes you right to them. When making a purchase through these links, a commission is potentially earned by WWTNT at no extra fee to you. But don't worry, I only feature products that I truly value for my readers.
If you're thinking about the mirror with shelves, be sure to check out The Best Trinkets For Your Closet and Vanity Table ! And keep an eye out here for more great deals or simply subscribe and I'll make sure you're in the loop!