The Best Handbags For Under $100
No matter what your income, everyone loves a convincing look for less, especially when it's under $100!
Hopefully, you're just in time to snag one of these uncovered gems. After the shopping links below, there's a mini shopping lesson to teach you just why these are such convincing looks for less.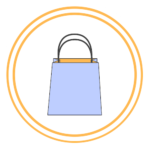 (Note: clicking on the following Under $100 products will take you right to them! If you choose to purchase something, WWTNT may get a commission at no additional fee to you. But don't worry, I only choose products I'm certain will fulfill my readers' needs.)
Why these work…
The rhinestone bow detail on this little evening bag is like jewelry for your outfit. The suede exterior has quality stitching that will last and there's a long, silver chain strap to wear over your shoulder if you'd rather not carry a clutch. Something as pretty as this is beautifully decorates your accessories shelf when you're not using it.
Purse hooks always give you a clean place to hang your handbag (see photo below). They're inexpensive and small enough to leave in your most often used purses.
Do me a favor? If you purchased something, I'd love to know how it worked out for you in the comments below. Feel free to email me photos of how you wear it as well! I read every comment and use what I learn from your feedback to choose future products for you.
And if you haven't already, subscribe! You'll receive what you need to build a closet full of flattering outfits that fill you with confidence and make you shine.